2020-06-04 18:26:56 GMT
We believe it is important to educate ourselves and our community about the Black experience in the United States and African history. Our content team helped pull together a list of Khan Academy's resources on Black history, politics, and culture. Here are a few hand-picked videos and articles if you want to learn more about these important topics. 

Black history in the United States 
Before the Civil War: Watch a video about the role of slavery in early America and read about the lives of African Americans in the early republic. Read about what life was like for enslaved men and women, and hear the story of the Scott family in the heart-wrenching Supreme Court decision Dred Scott v. Sandford. 
After the Civil War: Read about how life did—and didn't—change for African Americans after the abolition of slavery. Learn more about the failure of Reconstruction and the emergence of Jim Crow segregation. Hear two Constitutional scholars debate the lasting impact of the Plessy v. Ferguson Supreme Court decision, which permitted "separate but equal" public accommodations. 

The Civil Rights Movement: Read about how the post-World War II economic boom left out African Americans and how Black veterans were excluded from the benefits of military service. This lesson on the Civil Rights Movement covers the major events, ideas, and people from Emmett Till to Black Power. Dive into primary documents by reading Dr. King's Letter from a Birmingham Jail and examining it closely with help from Sal. Hear from Constitutional scholars about the lasting impact of the Brown v. Board of Education decision.

The history of Africa 
Want to learn more about African peoples and empires? Go back in time to learn more about Nubia and Ancient Egypt, Aksum, and Nok. Read about the states and empires of West Africa and the Bantu Migration. Experience African history through a Ghanaian lens with three videos from the World History Project: 

The Impact of the Slave Trade - Through a Ghanaian Lens 

Experiencing Colonialism - Through a Ghanaian Lens

Resisting Colonialism - Through a Ghanaian Lens

African American art 
The next best thing to visiting a museum in person, the Seeing America project puts art front and center in the history of the United States. Learn more about the work of Black artists in these videos and articles: 

Nineteenth-century artists: Henry Ossawa Tanner, The Banjo Lesson; William Howard, Carved writing desk.

Early twentieth-century artists: Jacob Lawrence, The Migration Series; Aaron Douglas, A beacon of hope; Romare Bearden, Factory workers; Horace Pippin, Mr. Prejudice.

Modern and contemporary artists: Benny Andrews, Flag Day; Thornton Dial, Blood and Meat; Alison Saar, Topsy and the Golden Fleece.

African American trailblazers
From Khan Academy's middle-school English language arts curriculum, you or your child may be interested in learning about these Black trailblazers: 

Marley Dias: An 11-year-old activist who brought attention to the importance of representation in what we read

Katherine Johnson: A pioneering mathematician who helped launch a man into space

Sojourner Truth: A formerly enslaved woman and abolitionist who speaks about the importance of equality for race and gender  (includes a fictional play that is based on true events) 

Mae Jemison: The first African American woman in space

Granville T Woods: An inventor who helped save lives

CJ Walker: The first self-made woman millionaire and social activist
Recommended books
Want to learn more about Black history in the United States? Check out these seven books and Khan Academy lessons recommended by our employees.

---
2020-05-21 17:14:46 GMT
We're delighted to announce new resources for families in the United States who speak Spanish. Sigamos aprendiendo is a hub for parents and students to easily find free educational support to continue learning during school closures. Our free resources in Spanish include: 
- weekly math learning plans for grade three through Algebra 2,
- daily schedules to provide structure and fun during distance learning,
- guided tutorials on how to use Khan Academy,
- information on Khan Academy Kids, our free app for learners ages two to seven, and
- tips for accessing affordable internet and devices.
And as always, all our free lessons and exercises in math, science, and other disciplines are available in Spanish too.  
As a nonprofit educational organization, we're determined to do everything we can to help parents and children during school closures. Together, we can keep everyone learning at  khan.co/sigamosaprendiendo.
¡Tenemos recursos en español en nuestra página Sigamos aprendiendo!
Queremos anunciar que tenemos una página con recursos para familias hispanas en los Estados Unidos. En Sigamos aprendiendo, tanto padres como estudiantes podrán encontrar fácilmente el apoyo educativo que necesitan durante los cierres escolares, de manera gratuita. Nuestros recursos en español incluyen: 
- Planes semanales de matemáticas desde 3.er grado hasta Álgebra II
- Horarios diarios para darle una estructura al aprendizaje a distancia, dejando tiempo y sugerencias para la diversión
- Tutoriales de cómo usar Khan Academy
- Información sobre Khan Academy Kids, nuestra app gratuita en inglés para niños de 2 a 7 años
- Consejos para obtener acceso a internet y dispositivos a un bajo costo
Y como siempre, nuestras lecciones y ejercicios gratuitos de matemáticas, ciencias y otros temas, también disponibles en español. 
Como una organización educativa sin fines de lucro, estamos decididos a hacer todo lo que podamos para ayudarles a los niños y a sus padres durante los cierres escolares. Juntos, en khan.co/sigamosaprendiendo, podemos colaborar para que todos sigamos aprendiendo.
---
2020-04-09 13:58:09 GMT
---
2020-03-05 17:32:59 GMT
Updated March 27, 2020
Read this post in another language: Հայերեն, Bahasa Indonesia, हिन्दी (इंडिया), български, 简体中文, čeština, Deutsche, Ελληνικά, English (India), Español, Español - EEUU, Français, ქართული, italiano, 日本語, 한국어, Magyar, po polsku, Português (Brasil), Português (Portugal), Српски, svenska, русский, Türkçe 
Resources for schools, teachers, and parents 
We know there's a lot on your minds—from health and safety to child care and jobs. These are exceptionally challenging times as we close schools to stop the spread of COVID-19, and we want to do everything we can to support you.
Khan Academy is a free resource for students, teachers, and parents.
We offer free lessons in math, science, and humanities from kindergarten through the early years of college. Students can use our exercises, quizzes, and instructional videos to learn and master skills. They will get immediate feedback and encouragement.
Resources to support you during school closures
We are having daily live streams on Facebook and YouTube at 12:00 p.m. PT/3:00 p.m. EST Monday through Friday, for students, parents, and teachers navigating school closures.
We've also created some helpful guides for you:
Parents
• Daily schedules to keep students ages 4 to 18 learning during school closures

• Weekly math learning plans for grade three to Algebra 2

• FAQs for Supporting Learning During School Closures

• Getting started with Khan Academy and Khan Academy Kids for remote learning webinar

• SAT updates and Official SAT Practice how-to

• Khan Academy Kids YouTube channel and free printable activities for kids ages two to seven 

• Webinars

          • How to motivate and engage your kids in learning: Wednesday, April 29, at 6:00 p.m. ET/3:00 p.m. PT

         • Finding your footing in uncertain times: Balancing multiple kids with multiple schedules: Monday, May 4 at 5:00 p.m. ET/2:00 p.m. PT  


          • Setting a daily schedule for young kids ages two to seven 

          • Setting a daily schedule for elementary school students ages 8 to 10

          • Setting a daily schedule for middle school students ages 11 to 13
Teachers 
• Set up your classroom for remote learning with our Quick start guide and video

• Ask your questions of expert Khan Academy teachers:

          • Educator virtual happy hour: Friday, May 1 at 4:30 p.m. ET/1:30 p.m. PT

• Catch-up with recent professional learning sessions:

          • How one teacher helped his students ace math … by taking them back to kindergarten!

          • 7 tips for effective remote learning—from setting up a schedule to addressing the emotional impact

          • How to engage and motivate your students … even when you're remote!
Khan Academy is a free resource for students, teachers, and parents.
What is Khan Academy? We offer exercises, quizzes, and tests so students can practice and master skills, as well as instructional videos to help students learn or review material.
• Khan Academy has a library of standards-aligned lessons covering kindergarten through early college math, grammar, science, history, AP® courses, SAT® preparation, and more.

• Students can practice skills with exercises, quizzes, and mastery challenges and get immediate feedback and support.

• Khan Academy is available in 40 languages.

• Students without laptops can access the Khan Academy website or use the Khan Academy app on smart phones.
Teachers get tools and reports designed specifically for them.
• Teachers can easily assign students an entire course—Algebra 1 or AP Biology, for example—a specific unit, or a specific skill.

• Teachers can easily track student progress with our reports.
School and teacher resources: How can you use Khan Academy?
We have several resources including a step-by-step Welcome guide and a series of online videos featuring real teachers demonstrating how to use Khan Academy to assign instructional videos and practice skills and monitor student progress. All these resources are available at Teacher essentials. Teachers can also join our #TeachWithKhan Facebook group.
How to get started:
Create free accounts from our home page. 
Take a tour of our free content.
Check out our teacher and parent resources, and learn how you can easily assign students a course to master. 
More questions? Visit our help center.
Khan Academy Kids for early learners
If you have a child ages two to seven, we recommend our free app, Khan Academy Kids. In addition to building early literacy, reading, writing, language, and math skills, the app encourages creativity and builds social-emotional skills. It is 100% free, with no ads and no in-app purchases. Khan Academy Kids is available on iTunes, Google Play, and the Amazon App store.
Khan Academy is a nonprofit organization.
Our mission is to provide a free, world-class education to anyone, anywhere. With more than one billion children world-wide being impacted by school closures, we are experiencing soaring demand for our free resources. Our ability to quickly increase our services is made possible by Bank of America, AT&T, Google.org and Novartis. If you are able, please consider making a donation. Together, we can keep everyone learning.
Sincerely,
The Khan Academy team
---
2020-03-02 17:04:49 GMT
Khan Academy Kids, our award-winning educational app for children ages two to seven, now includes new first-grade lessons. We've added thousands of interactive activities, lessons, and books: 
- More than 5,700 activities aligned with first-grade English Language Arts (ELA) and Math Common Core Standards 
- More than 80 animated instructional videos featuring the animated characters of Khan Academy Kids 
59 new books:
- Nonfiction science books from National Geographic and Bellwether Media
- Original fiction stories for early readers
- Books covering social-emotional topics and featuring compelling new characters like Caterpillar, who showcases patience and self-confidence, and Seahorse, who learns to be brave and face his fears to help his friend Jellyfish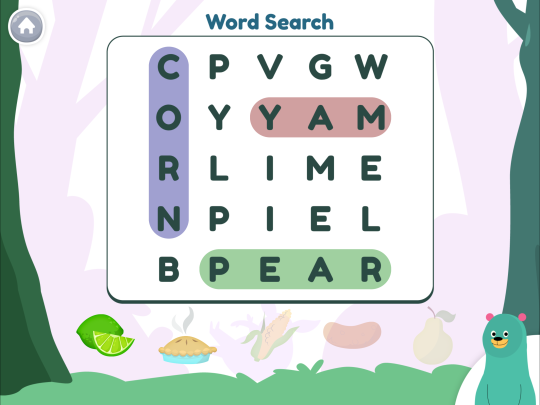 The goal of Khan Academy Kids is to help young learners everywhere learn to read, thrive in a classroom, count, be creative, ask questions, and—above all—build a love of learning. When we launched Khan Academy Kids in 2018, we wanted to help kids from all backgrounds and all walks of life be kindergarten ready. This spring many of the children who are using our app will graduate from kindergarten and move on to first grade. We're excited to be able to continue the learning journey with them by providing first-grade lessons.   
Like the rest of the app, our new first-grade lessons are designed with a whole-child focus. Our program engages kids in core subjects like early literacy, reading, writing, language, and math, while encouraging creativity and building social-emotional skills. Khan Academy Kids is aligned with Common Core standards and the Head Start Early Learning Outcomes Framework, and it was developed in collaboration with education experts at Stanford University. 
The new first-grade lessons are available now on the Khan Academy Kids. The app is 100% free with no ads, in-app purchases, or subscriptions. Download the app today on iOS or Android. 
With the support of education leaders like Super Simple Songs®, Bellwether Media, and National Geographic Young Explorer magazine, we're providing young learners with high-quality educational materials to spark a lifelong love of learning. Khan Academy Kids is made possible through generous support from Imaginable Futures and Windsong Trust.
---