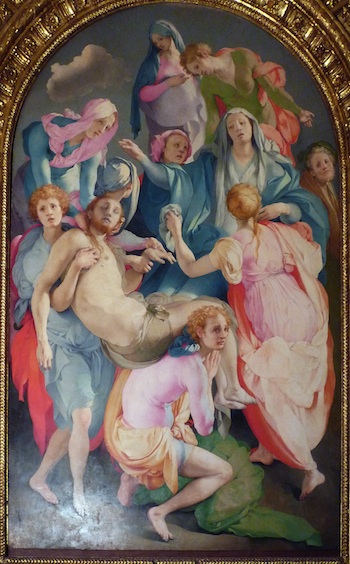 Jacopo da Pontormo, Entombment (or Deposition from the Cross), c. 1525-28, oil on panel, 313 cm × 192 cm (Capponi Chapel, Church of Santa Felicita, Florence)
Mannerism is a confusing term, subject to radically different interpretations but generally used to describe the art in Italy which directly succeeded that of the Renaissance and preceded the Baroque. Its first widespread use, in the 17th century, was pejorative, implying an over-elaborate distortion, an imbalance, and a neurosis first discerned in the later work of Michelangelo and in the followers of Raphael.
"Typical" Mannerist painters were artists such as Parmigianino, with his elegant elongation of the human form, and Pontormo, whose compositions exhibit a disturbing psychological tension. This essentially negative view held sway until the mid-20th century when John Shearman propounded an alternative theory whereby maniera ("style" in English, originating in French manière and borrowed from the French courtly literature of manners) should be equated with skill and the overcoming of difficulty. He cited impressive historical proof of the positive connotations of the term: a sonnet of 1442 listing maniera among the heaven-sent gifts of Pisanello, Vasari, (1552) including it as one of the five qualities which made his century, the 16th, superior to the preceding one.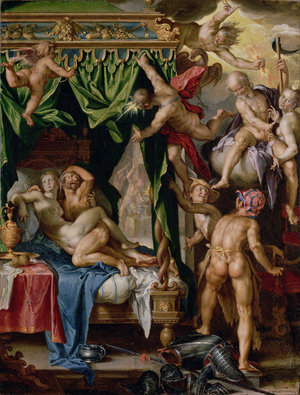 Joachim Uytewael (also spelled Wtewael), Mars and Venus Discovered by the Gods, c. 1606-10, oil on copper, 15.5 x 20.3 cm (J. Paul Getty Museum)
Although 'Mannerism' is mainly applied to Italian art, there was also 'Northern Mannerism,' used to describe the work of north European artists such as Goltzius, Uytewael, and Spranger active in the late 16th and early 17th centuries, whose twisting, intricate compositions reached a large audience through the highly accomplished prints made after them by printmakers such as Müller and Sadeler. Many of these artists worked from the 1580s onwards for the Emperor Rudolf II at his court in Prague.
With permission, from: The Concise Oxford Dictionary of Art Terms, Michael Clarke, Deborah Clarke. © 2012 Oxford University Press. Available at Oxford Art Online
---
Additional resources:
Mannerism on the Metropolitan Museum of Art's Timeline of Art History
Pontormo at the J. Paul Getty Museum