One way to help students develop effective study habits and time management skills is to help them build study plans. A study plan can be Khan Academy videos and exercises mapped against deadlines. Students can use these plans to take ownership of their college preparation process.
Here are some sample study plans and playlists that you and your students can customize or use as inspiration:
Of course, study plans are not a one-size-fits-all solution. You and your students can use the guide below to build customized study plans. Additionally, if desired, you can use coach recommendations to hold students accountable for completing their study plans.
Here are a few steps some students have taken when creating study plans.
Step #1: Set overarching goals
Answer the following questions to help you set big goals:
Which exam will you be taking?
What topics are covered on that exam?
How many weeks do you have to prepare?
Step #2: Select material to study Identify which videos and exercises you need to study.
Check out this article on finding relevant content. Then write out goals detailing which videos and exercises you'll complete each week.
Step #3: Start working and tracking your progress
As you complete videos and exercises, check them off on your study plan. You can also use the Progress Report within your Khan Academy account to see what you've done.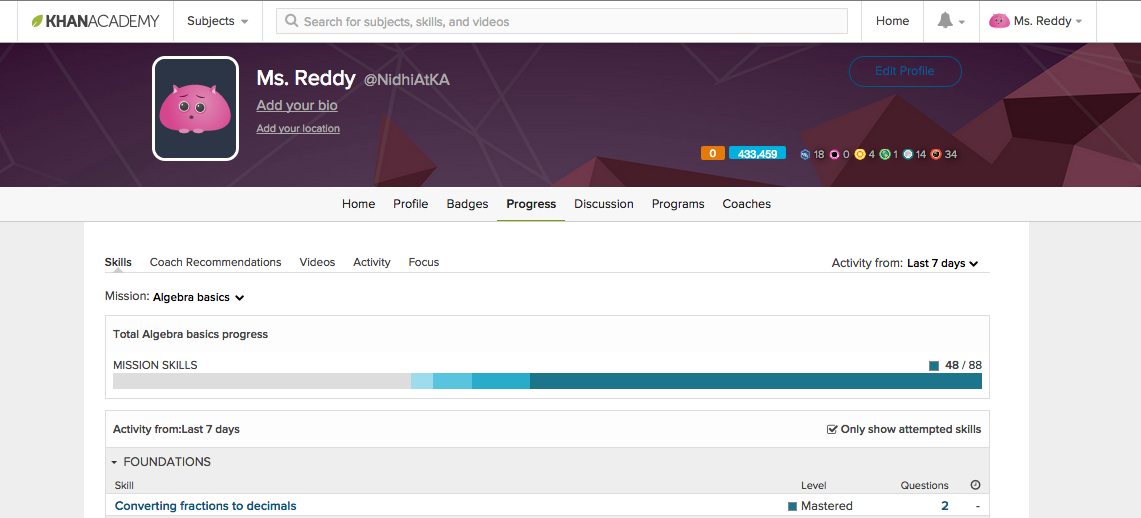 Step #4: Ask for support as needed
Reach out to your instructor or another person you trust if…
You've practiced a skill, read the hints, and watched the videos but still don't understand the exercise.
You're not sure how to prioritize your studying.
You need other help related to your study plan.
If you add your instructor as a coach, they'll be able to monitor your progress.
Tips to get the most out of studying
Tip #1: Time
Our brains do better if we give ourselves time. You'll learn more if you study an hour per day over 10 days than if you study for 10 hours the day before an exam.
Tip #2: Learn and review
Practicing skills on Khan Academy helps you learn new material, while doing mastery challenges helps you review previously studied concepts. Make sure to do both mastery challenges (if they're available) and new skills every time you use Khan Academy.

Focus on reviewing (not cramming) in the last day or two before an exam. It's hard to learn if you're cramming!
Tip #3: Be active
Write notes when you're watching videos. Use a journal to work out your math problems. Read exercises out loud. Work through exercises with friends.
Tip #4: Teach it
After watching a video, explain it to your mom, study buddy or pet rabbit. We learn concepts more deeply when we teach them.
Download this guide as a PDF: Building a study plan.