Khan Academy gives coaches a wealth of information about their students' progress. Coach reports show how students are spending their time on Khan Academy, where they're struggling, and where they're excelling. Before viewing these reports, it's helpful if you try out a math mission on your own to familiarize yourself with how mastery levels work.
To access your coach dashboard, click on your username, select "Your Students."
Below is a brief guide on how to use two of the most powerful reports we offer: the Student Progress report and the Skills Progress report.
Student Progress
This report allows you to get a quick summary of your class as well as delve into the progress of each individual student.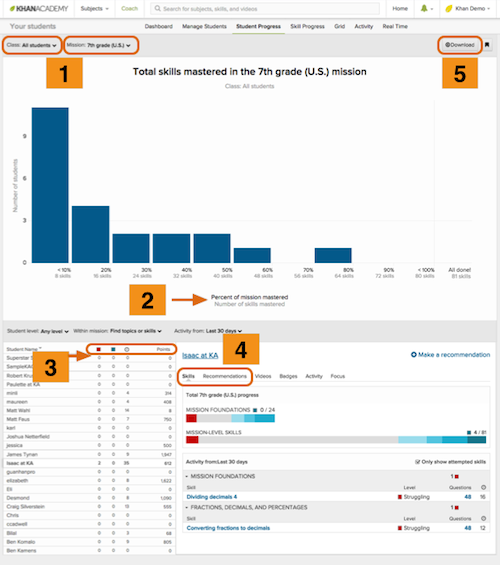 The histogram at the top is one of the most useful and efficient charts available if your students are working through a grade- or subject-level mission.
1 ) This lets you filter by class (i.e. 5th period) and mission (i.e. 7th grade).
2 ) The graph shows you the percentage of the mission that your class has mastered.
If you click a bar of the histogram, you can see a list of the students who are within that interval display to the bottom left of the report.
3 ) These icons allow you to sort students by: *Amount of skills they're struggling with, *Amount of skills they have mastered, *Estimated amount of time spent on Khan Academy, and *Number of energy points with the time period specified.
If you want to dive deeper, individual student reports can show you the activity of a particular student. Click a student's name to see more details about their learning progress.
4 ) These two tabs are particularly helpful for teachers:
Skill: Shows you the amount of skills your student has practiced, mastered, and everything in between. It also lists which skills your student has been working on within the time period you filtered.
Recommendations: Allows you to view all of the students' coach recommendations. Those highlighted in green have been completed.
Skill Progress

This report is particularly helpful for checking students' status on individual skills. This can come in handy when identifying which students need additional support, such as peer tutoring, small groups, or 1-1 time with the teacher.
1 ) This lets you filter by class (i.e. 5th period), mission (i.e. 7th grade), and topic or skill (i.e. Negative Numbers or "Interpreting negative numbers").
2 ) You can see here how the chart organizes students by which mastery level they are in for that skill.
3 ) This link allows you to see an example exercise for the skill selected.
4 ) If you would like to recommend this skill to your students who are in the "Needs Practice" column, you can do it with this link.
5 ) If you would like to bookmark the filters you selected, you can do it by clicking this button.
Common pitfalls to avoid
Energy points: energy points can be a rough estimate of effort, but some students may quickly figure out how to "game the system" if there's too much of an emphasis placed on them. Use energy points to motivate students, but make sure to triangulate this information with more details about the specific student activities (e.g. if they are working on skills that they should be working on) be wary of students watching videos on end or completing lots of skills that are too easy for them.

Time: time is calculated very conservatively and includes all time students have spent actively engaged in the material, including both videos and skills. After two minutes of inactivity, a student is no longer counted as engaged. We count time conservatively so that it won't be easy for students to open KA, surf the web, and get credit for practicing math. With that said, it's common for students to take more than 2 minutes working out a problem. We encourage you to use time as a general benchmark, but to be generous if students say they have been on the site for longer.

Struggling: Seeing lots of red in your reports isn't necessarily a bad thing. Struggling is part of learning, and we want students to feel safe practicing and attempting difficult skills. Encourage students to use hints and videos, seek help from peer tutors, and provide in-person support when necessary. When students finally master a skill that initially gave them trouble, recognize them not only for learning it but also for persevering and displaying a growth mindset.
For more information on Khan Academy's Coach and Student Reports, download our guide (PDF) or visit our Help Center.